Welcome on board
In our first issue (March 2007) we bid you welcome on board as you were genuinely interested in 'tall ships' and because you wished to support our mission: to promote Curaçao, its harbour and help our youngsters at the same time. These are the main reasons we keep going, keep inviting the 'tall ships' and induce them in accepting our invitations. We hope you will also enjoy our present site.

THE V/E CAPITAN MIRANDA IS ON ITS WAY

This sailtraining ship of the Oriental Republic of Uruguay has left her homeport Montevideo on 23 May 2019 to start their XXXI sailtraining cruise that will take her to 19 ports in the next five months.

From 29 June until 3 July 2019 she will visit Curaçao, by special invitation of our Foundation, to participate in the festivities of our National Flag Day (2 July); this year is our 35th Anniversary. She will be berthed at Matheywerf (in Otrobanda).

Her daily Open Doors will be during the following hours:
Saturday 29: closed (to get the ship spick 'n span after the long journey overseas).
Sunday 30 and Monday 1: from 10:00 - 12:00 and 14:00 - 18:00.
Tuesday 2: from 09:00 - 12:00 and 14:00 - 19:00 (sunset).
Wednesday 3: closed. The Capitán Miranda will leave port at 10:00 hrs .

Be there to waive her farewell
and Sea you Soon...

The Uruguayan Navy published the following information:
El Velero Escuela ROU 20 "Capitán Miranda" zarpó del Área Naval del Puerto de Montevideo para comenzar su Viaje de Instrucción Nº XXXI, que durará más de cinco meses e incluirá una extensa recorrida por el Continente Americano.
El evento contó con la presencia del Señor Ministro de Defensa Nacional Dr. José Bayardi, Señor Subsecretario de Defensa Nacional, Ing. Agr. Andrés Berterreche, Señor Ministro de Relaciones Exteriores, Rodolfo Nin Novoa, el Señor Jefe del Estado Mayor de la Defensa, Almirante Fernando Pérez Arana, el Señor Comandante en Jefe de la Armada, Almirante Carlos Abilleira, Autoridades Nacionales e Internacionales, Oficiales Navales y Militares; además de familiares y amigos de la tripulación que comienza esta travesía.
El Velero Escuela visitará los puertos de Río de Janeiro, Fortaleza, Saint Georges, Willemstad (Curaçao), Cartagena de Indias, Colón, Cozumel, La Habana, Miami, Baltimore, New London, Newport, Boston, Norfolk, Santo Domingo, San Juan, Castries, Natal y Victoria.

En esta ocasión, la tripulación está conformada por 80 tripulantes, entre los que se encuentran 16 Guardiamarinas de la Armada Uruguaya y uno de la Reserva Naval; 8 invitados pertenecientes a las Armadas de Argentina, España, Paraguay y Brasil; contándose también con representantes del Ejercito Nacional, la Fuerza Aérea Uruguaya, Policía Nacional y Ministerio de Relaciones Exteriores. Además, abordarán el Capitán Miranda para realizar parte del recorrido, un representante del Componente Naval Panameño y uno de la Armada de los Estados Unidos.
El Embajador de los Mares llevará productos de la más alta calidad elaborados en nuestro país, contando con el respaldo de la Marca País en los 19 Puertos Internacionales que visitará; representando y transmitiendo nuestra identidad durante su derrota.
Cabe destacar que nuestro Buque Insignia se encuentra realizando su segundo viaje de instrucción después de haberse completado la Reparación Mayor del mismo en los astilleros del Servicio de Construcciones, Reparaciones y Armamento de la Armada en el año 2017 con 100% mano de obra uruguaya.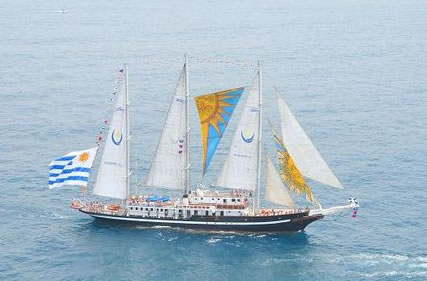 Our Celebration
On February 28, 2019 we celebrated our 19th anniversary; 19 years of working incessantly on our mission for Curaçao, our harbour and our youngsters. We trust we may continue to do so for many more years.

Tallships visits & events
Besides the tall ships' visits during the past years representing nearly 25 nations, we also organize our own colourful events. All the captains who have visited Curaçao have expressed their wish to return because of what we offer them, time and again: our unique people, quality over quantity – and some of them (like the Mexicans, the Colombians and the Chileans) have indeed returned; now it's the Uruguayans' turn. In their own words, they are "besides their own country's, also our sailing ambassadors".
VELAS LATINOAMERICA 2018 / Latin-America Sails 2018.
Our 3rd International Tall Ships Event was the first of its kind.
From July 15 - 18, 2018, we had 10 vessels in our harbor: 8 tall ships (from all the Latinamerican countries) and 2 'greys' of our RNN (Royal Netherlands Navy).
The Velas Latinoamérica 2018 started in Rio de Janeiro on April 1 and arrived in Curaçao on July 15 (check out the Recorrido Velas 2018 below). During the 3 following days we offered the Commanders and their crews, the public and the many foreign visitors a phenomenal event; they have had a fantastic time and they assured us that they will return for 2022.
Historical background.
South America Sails 2010.
The bicentennial celebrations of the first independence movements in South America, led the Chilean and Argentinian Navies to organize, in a combined way, this first international Tall Ships Encounter, in order to enhance these significant events. (It is important to state that, Colombia, México and Venezuela were also in this group of countries that initiated their independence movements in the year 1810.)
Naval Inter American Conference 2012
The Commanders in Chief of the Navies gathered in the XXV Naval Inter American Conference (Cancún, México in May 2012), after analyzing the continental repercussion and the valuable experience obtained during the development of "South America Sails 2010", agreed to repeat this activity every 4 years.
Latin-America Sails 2014
During the Cancún meeting in 2012, the Commanders in Chief defined that the name would be "Latin-America Sails", that the 2014 version would be organized by the Argentinian Navy and the one in 2018, by Chile. In this 2014 version, 8 ships of 7 countries participated.
Latin-America Sails 2018
During the XXVI Inter American Naval Conference that took place at Buenos Aires, Argentina, in September 2014, the Commanders in Chief confirmed the Chilean Navy as the organizer of the following version in 2018.
Motivation
The Republic of Chile and its Navy, celebrated in 2018 different events:
Commemoration of 200 years of the Oath of Independence.

The bicentennial of the Chilean Navy, founded along with the Republic.

The Bicentennial of its Naval Academy "Arturo Prat", the Marine Corps, the Naval Commissary, the Supply Core and most importantly, its first organized Fleet set sail that year.
Country project
In consideration of the importance of the events that would be held, the Chilean Government determined that the challenge would be faced as a Country Project, committing all State agencies.
Apart from the following countries Argentina, Brazil, Colombia, Ecuador, México, Peru, Uruguay and Venezuela, other countries outside the region have also participated.The countries that participated but do not have tall ships are: Panamá, Curaçao and the Dominican Republic (though acquired one lately).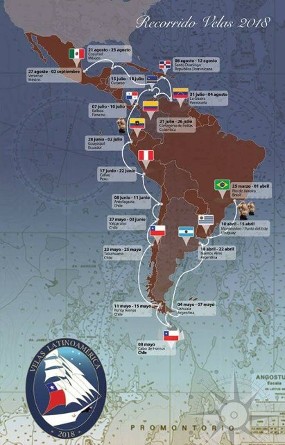 VELAS LATINOAMERICA CURAÇAO 2018
15 - 18 July 2018
Curaçao was Port of Call of this Regatta. The event in Curaçao has taken place on Sunday 15, Monday 16 and Tuesday 17, July 2018. On Wednesday 18 the tall ships of the participating countries have left Curaçao and sailed to Cartagena (Colombia).
You can visit our Facebook page Velas Latinoamérica Curaçao and enjoy...

OUR NEXT TALL SHIPS EVENT
In view of the phenomenal success of this first Latinamerican Velas festival in our World Heritage Port City, we can count on being a Port of Call in 2022, when Brazil will organize Sails 2022 on the occasion of their bicentennial independence.

STAY TUNED!
Below is the harbor layout during Velas Latinoamérica Curaçao 2018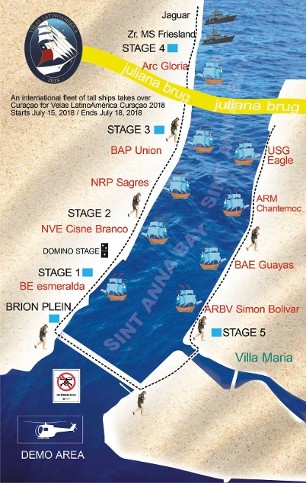 Curaçao - Tall Ships Port of the Caribbean